Truly Transform is a 6 week at-home, doctor-directed detoxification and health transformation program that includes:
An Initial Video Appointment with Diane Angela Fong, ND
3 months of Direct Support from Dr. Fong through Messaging and Live Webinars
Truly Transform Workbook (with daily journal)
6 Weeks of Step-by-Step Video Instruction by Dr. Fong
A Urine Test Kit to check for Liver, Gallbladder, and Kidney Function & Toxicity
Detox & Flush Supplements
Dr. Fong designed this program to target the root cause of chronic disease - TOXIC BURDEN. When your system is burdened with toxins, you will inevitably develop chronic symptoms that act as an "alarm system" to let you know that something is wrong.
In this 6 week program, Dr. Fong will support you to complete a 4 week detox in preparation for a 2 week protocol where you will complete an at-home procedure called a liver & gallbladder flush. This flush will clean out a decade's worth of toxins and congested bile from your body and turn off these "alarm systems".
The goal of this program is to eliminate your chronic symptoms COMPLETELY and Truly Transform your health! Scroll down to learn more!
Click here to see the Full Testimonials from some of our Truly Transform Graduates!
WHO CAN BENEFIT FROM THIS PROGRAM?

Anyone with CHRONIC SYMPTOMS & DISEASE, such as those listed below.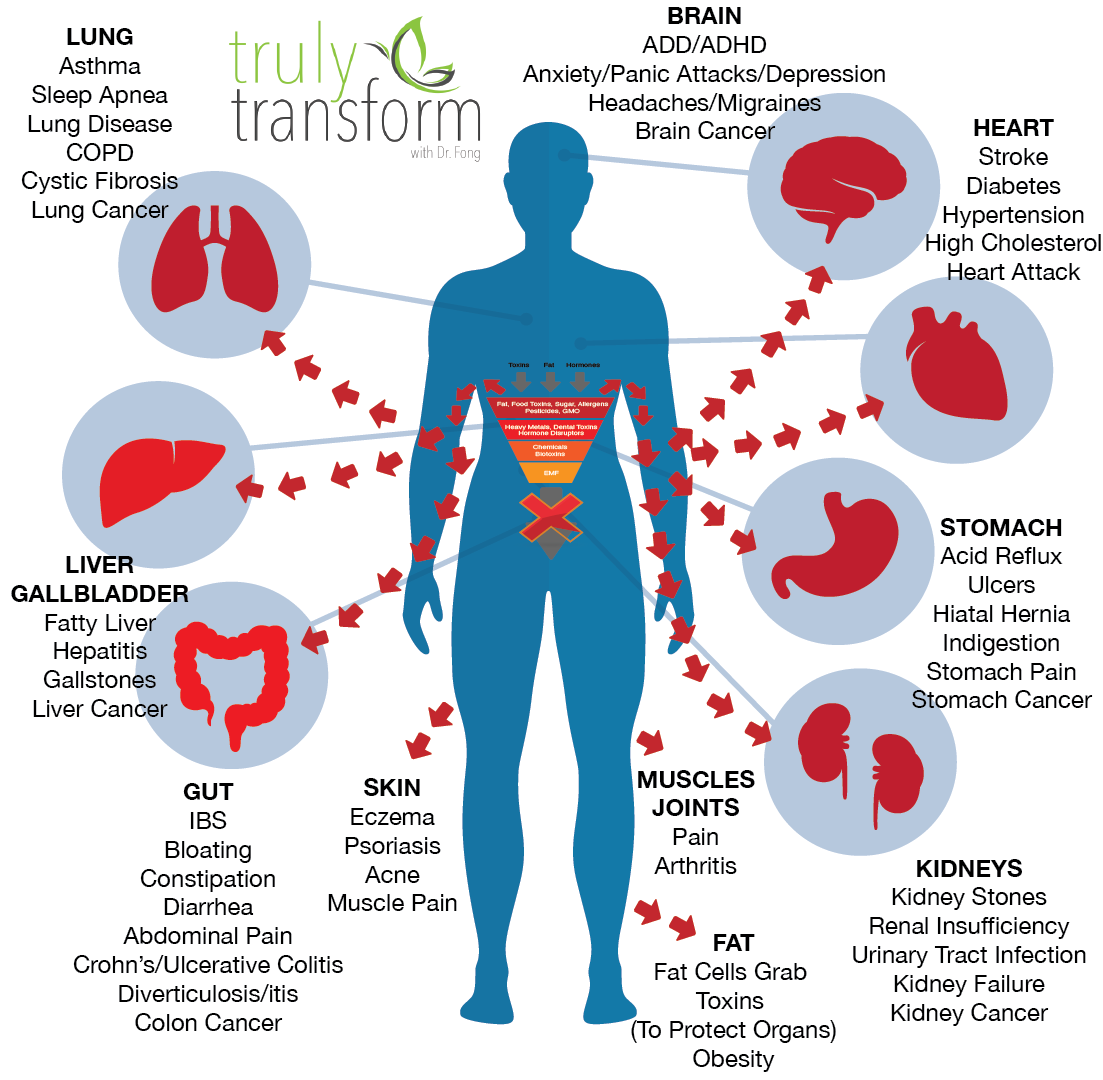 HOW DOES THIS PROGRAM TARGET THE ROOT CAUSE OF CHRONIC SYMPTOMS?
The Root Cause of ALL chronic symptoms is TOXIC BURDEN. In this program, you will flush out your "Detox Funnel", clearing the toxins that are clogging your system.
What is the detox funnel? Click here to find out!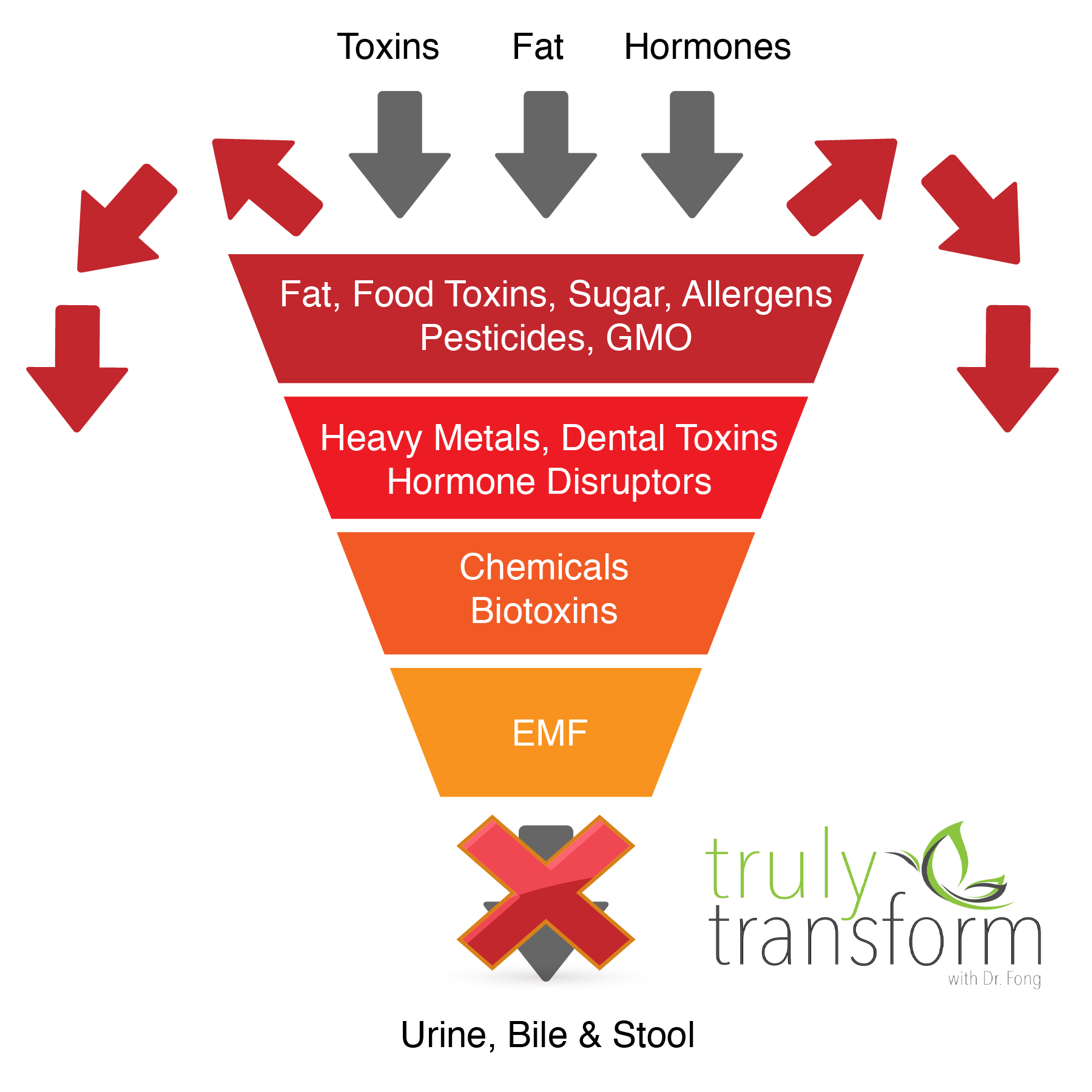 HOW DO YOU FLUSH OUT YOUR DETOX FUNNEL?
The grand finale of this 6 week program is a LIVER & GALLBLADDER FLUSH - a physical flush and detox of your liver, gallbladder, and colon giving you a deeper cleanse than you have ever experienced before.
This procedure is similar to flushing out your transmission fluid in your car. If you fail to do a flush every couple thousand miles, your car would break down; like our cars, our bodies create chronic disease and break down when we accumulate toxins in our bodies. The liver & gallbladder flush is a safe and effective way to clean out these toxins and restore optimal function in the body.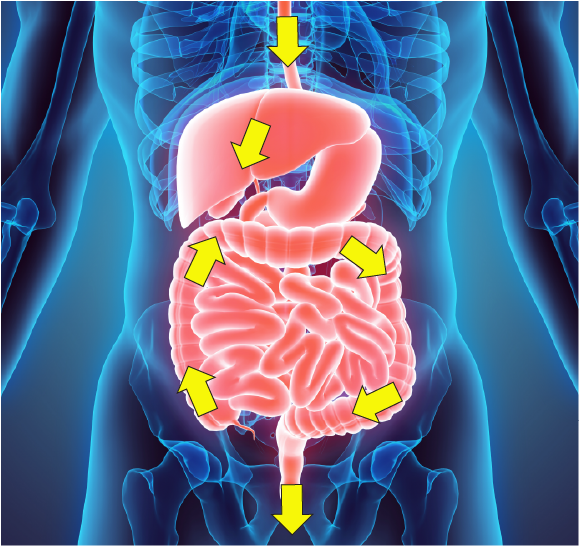 Click here to see what gets flushed out during the liver & gallbladder flush!
The Program Includes EVERYTHING you need to Transform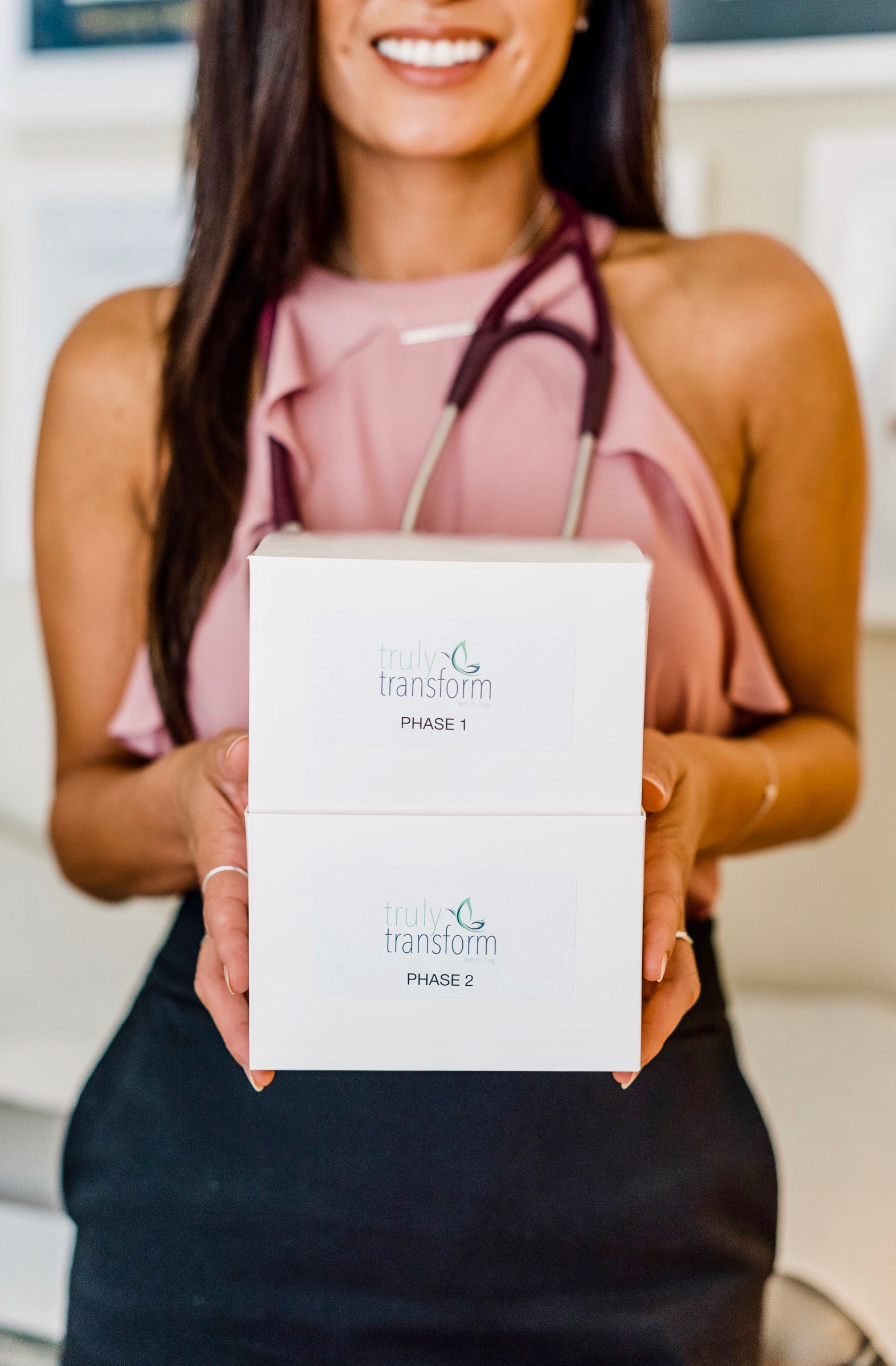 DR. FONG'S SUPPORT FOR 3 MONTHS
Initial Video Appointment with Dr. Fong
3 Months of Live Coaching with Dr. Fong
6 Weeks of Step-by-Step Video Instruction by Dr. Fong
Truly Transform Workbook (with a daily journal)
Access to the Facebook Group
TESTING KIT & SUPPLEMENTS
Urine Test Kit to Assess Liver, Gallbladder & Kidney Function
Phase 1 Supplement Box (3 Detoxification Support Supplements)
Phase 2 Supplement Box (6 Flush Supplements)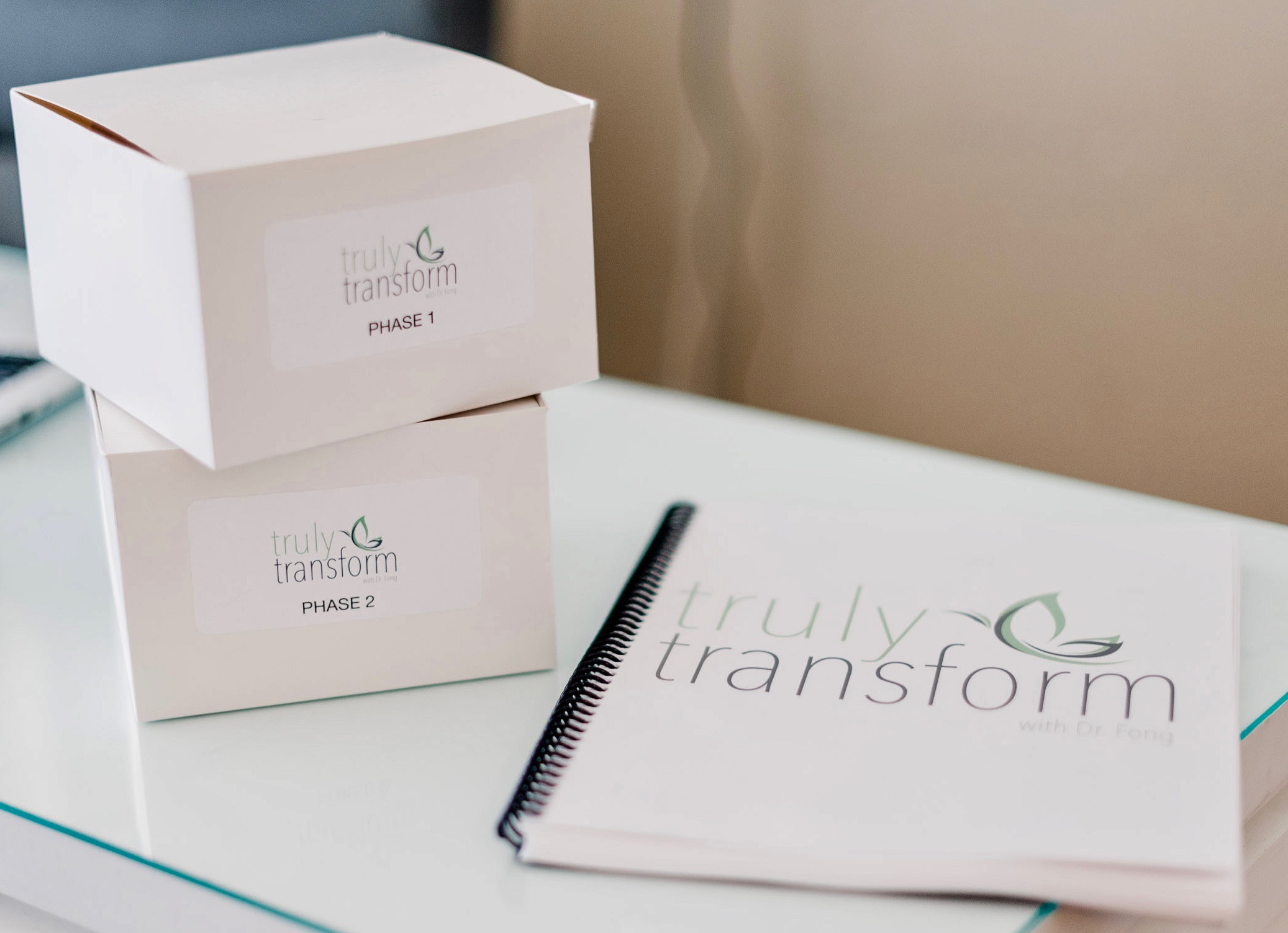 Why Choose Truly Transform?
High Levels of SUCCESS!

Truly Transform is not your average juice cleanse or detox-in-a-box. Dr. Fong has designed this program after years of clinical research with her chronically ill patients. With her guidance, you will safely and effectively achieve your health goals. If you have not found the answers you are looking for, or have tried detox or diet programs that didn't work or didn't stick, it is likely because you did not get to the root cause. Click here to find out more and learn about the four parts of the program!
Are You a Good Candidate for Truly Transform? Take the Quiz!
Take the Health Assessment Quiz to find out if you are a good candidate for Truly Transform. If you have moderate and high scores in any organ systems or have symptoms such as bloating, fatigue, headaches, weight problems, skin issues, joint pain, and PMS, Truly Transform will help you conquer these symptoms and optimize your health!
Your Instructor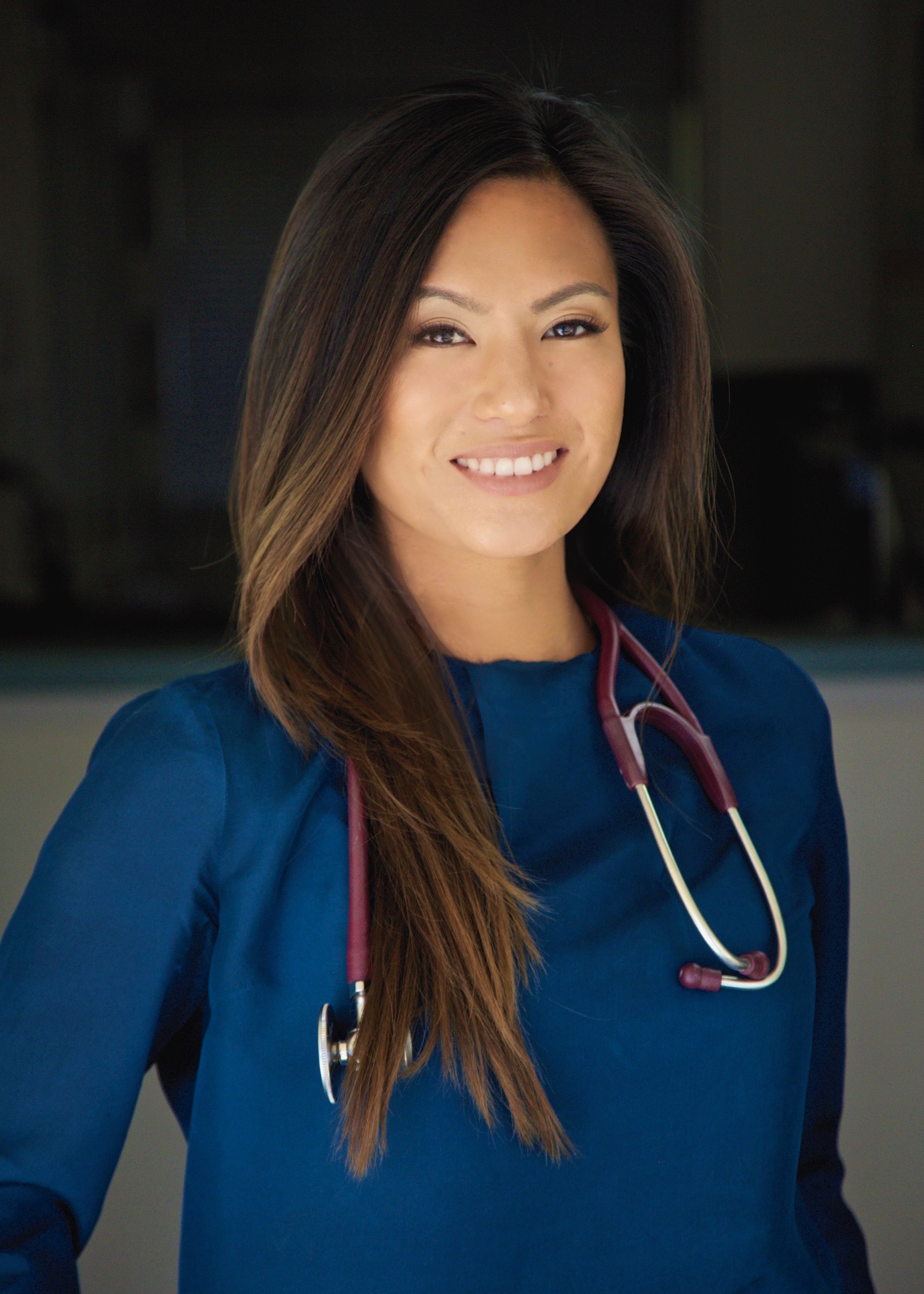 Dr. Diane Angela Fong, ND is the Medical Director of NaturalStart Medicine, creator of Truly Transform, and a naturopathic doctor specializing in Naturopathic Toxicology, Endocrinology, Fertility, Dermatology, Gastrointestinal Health, & Complex Cases. Dr. Fong's practice focuses on treating children and adults suffering from chronic disease, and educating families about preventive care. Her special interests are chronic pediatric and adult conditions, chronic skin disease, gastrointestinal complaints, infertility, anxiety, depression, endocrine-related issues, and complex cases.
Frequently Asked Questions
When does the course start and finish?
Truly Transform is a completely self-paced online course that you have access to for three months. You decide when you start, and you can join monthly live coaching webinars offered every two weeks. You will receive your Truly Transform Box 3-5 business days after purchase and then you can start your health assessment and schedule your initial consult with Dr. Fong. After your initial consult with Dr. Fong, you can begin your 6 week health transformation and she will support you for three months.
How long do I have access to the program?
After enrolling, you have unlimited access to this course for three months - across any and all devices you own.
Does the program price include the supplements?
No. After you purchase the Truly Transform program, you will need to purchase the Truly Transform Box separately. Please note, the Truly Transform Box of supplements is mandatory to complete the program.
Can you do this program if your gallbladder has been removed?
Yes, you can. You will want to mention this to Dr. Fong at your initial video appointment so that she can give you extra support during the program, if needed.
I have severe symptoms. Can I do this program?
Yes, you can. Dr. Fong will assess your health at the initial consultation and decide if you need labs ordered and additional treatment to safely complete this program.
Can I get any reimbursement from my health insurance after purchasing this program?
The Truly Transform Program is FSA/HSA and insurance reimbursement eligible. You will receive a "superbill" receipt after your initial video appointment with Dr. Fong that you may submit to your insurance on your own.